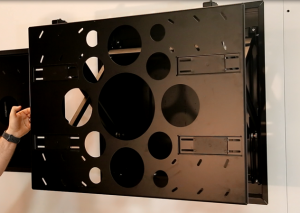 rp Visual Solutions (RPV), a leader in custom architectural structures for visual displays, announced today the availability of the highly anticipated Wallmate 32MAX for displays that are 65″ and larger, up to 300 pounds. The rigid, no-shake structure includes features for simplified, in-wall installation and service access. This new mount joins the Wallmate 16 and Wallmate 32, creating a complete line of mounting systems that enable confident installation of LCD panels up to 300 lbs.
The Wallmate 32MAX integrates the back box, display mount, and AV device mounting into a single SKUÂ solution. The mounting plate's unique design accommodates standard VESA patterns, includes +/- 2-degree rotation leveling and +/- 2-degree horizontal shift.  These adjustments are especially useful for panels with non-standard or off-centered VESA patterns.  The device mount adapter sits in front of the back box with a storage capacity of 23.9 x 19 x 3.8, providing ample space for accessory equipment like video extenders and small computers. If more space is required, add in up to two optional Aux Trays into the back box.  Each with a 12.5 x 7 x 2.5 capacity, it changes the 32MAX into a cavernous space. After all components are installed, the Wallmate 32MAX protrudes less than 1″ from the wall for ADA compliance even after panels are mounted.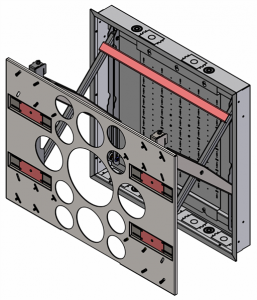 The structural steel design provides exceptional rigidity. The stabilizing construction eliminates vibrations often encountered with flat panels that have interactive touch screens. The system is designed for a clean installation, including additional panel electronics, into a space that is two standard 16″ studs wide, saving time and money by creating faster installation timelines onsite.  When service is required, the Wallmate 32MAX's new 16″ extension arm system, upgraded from the Wallmate 32's 9″ extension, positions the panel at a comfortable distance from the wall. This enables access to the panel and accessory electronics.  Even when extended and under a 300-pound load, the Wallmate 32Max remains secure.
Get the latest Press Releases:
---
By submitting this form, you are consenting to receive marketing emails from: . You can revoke your consent to receive emails at any time by using the SafeUnsubscribe® link, found at the bottom of every email.
Emails are serviced by Constant Contact
About rp Visual Solutions
rp Visual Solutions is the leading manufacturer of creative visual structures. We are a collection of passionate and innovative designers and engineers specializing in the development and implementation of creative visual solutions for the best in gapless joints. We solve for the large, curved, tilted, and architecturally integrated with a special focus on engineered screen solutions that ensures projection technology has maximum impact. RPV is known for the best in display optimization, install, and maintainability.