Get ready for another stunning co-exhibition from rp Visuals and Primate Technologies, Inc. this year at the DistribuTech Conference in Orlando. This pairing of software and hardware wowed attendees last year with an innovative video wall comparing display technologies commonly used in Control room designs. This year is poised to showcase both companies using interactive technology, as well as a cost-effective way to design smaller Control Rooms using a blend of projectors.

Primate and rp Visuals will collaborate this year to showcase Primate's Operational and Situational Awareness technology. Primate's product portfolio that digitizes a map board or a printed surface and integrates data from diverse technology systems for a collaborative and intelligent visual will be shown on RPV's mounting solutions. RPV will display Primate's technology via an Optical blend screen system, and a Touch/Interactive Flat Panel array.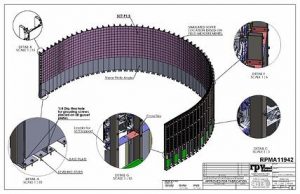 RPV recently completed the installation of the largest direct-view LED control room in the world. This Southern California Power Utility Control Room comprised over 1,000 sq. ft. and more than 48 Million pixels. "With that said, we designed this booth with smaller Control Rooms in mind. Both of these display technologies offer a very economical way to design Control Rooms. RPV is an innovator in the Control Room world, and collaborating with Primate takes our display solutions to the next level." said Randy Pagnan, Owner of rp Visual Solutions.
Rita Patterson, Principal at Primate, commented, "We are excited to have this opportunity for attendees to see our state-of-the-art situational awareness software on the versatile solutions offered by rp Visuals!"
This conference will take place at the Orange County Convention Center from February 9th. through the 11th. Primate and RPV will be located in booth #858. For a complimentary Exhibit Hall Pass, please contact Brandy Alvarado, Marketing Manager at brandy@rpvisuals.com.
Dates: February 9-11, 2016
Location: Orange County Convention Center
RPV / Primate Technologies Booth #858
About Primate Technologies, Inc.
Primate Technologies, Inc., is a visualization software company focused on situational and operational awareness solutions. Primate Technologies has a record of performance for delivering products that meet industry and regulatory standards, including compliance with security requirements. Incorporated in 2001, Primate specializes in software and display content solely within mission-critical control rooms. Our focus on this market segment, refined design process, and experienced staff make Primate a sought after situational awareness leader.
About rp Visual Solutions
rp Visual Solutions develops visual display solutions for AV integrators and Consultants in demanding applications, including Boardrooms, 24/7 Utility Control Operations Centers, Training Facilities, Network Operation Centers-anywhere visual displays are utilized. Innovative Visual Display & Mounting Solutions Tailored To Fit Your Needs.
Subscribe to our newsletter:
---
By submitting this form, you are consenting to receive marketing emails from: . You can revoke your consent to receive emails at any time by using the SafeUnsubscribe® link, found at the bottom of every email.
Emails are serviced by Constant Contact