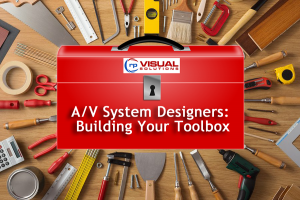 rp Visual Solutions, (RPV), is pleased to announce that the company has been named an official AVIXA Renewal Unit (RU) Provider and has been approved for another program geared towards AV Consultants, Creators, and Integrators. This will allow the more than 11,000 professionals holding AVIXA's Certified Technology Specialist credential to earn renewal units towards their certification by completing certain RPV education programs.
To obtain approval, RU programs must feature experienced instructors with clear evidence of qualifications in the session topic. Each class must contain at least one relevant learning objective or industry-related purpose; relate to a specific exam topic area and exam level and conclude with an assessment tool to demonstrate participants have grasped the objectives. These criteria are vigorously reviewed by AVIXA's CTS Renewal Committee.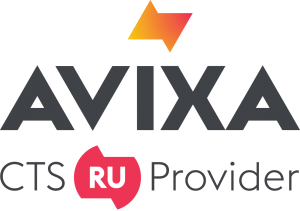 The following programs can be completed for RUs:
AV System Designers: Building Your Toolbox for 4.5 RUs 
RPV continues to demonstrate its commitment to advancing the audiovisual industry through ongoing education and training that keep a certified AV workforce on the forefront of technological change and best practices, said David Labuskes, CTS, CAE, RCDD, Chief Executive Officer, AVIXA. By fostering professional development, RPV has demonstrated its leadership and strong support of the industry.
We're passionate about tailoring programs for the AV Community. Our newest course, AV System Designers: Building Your Toolbox, was tailor-made for AV Consultants, Creators, and Integrators and can be offered as a full day course or two half days, said Brandy Alvarado, Marketing and Business Development Manager for RPV. Our goal is to be a resource for the industry and create an arsenal of tools to help build AV skill-sets.
For additional information on programs and availability please contact Brandy Alvarado or visit us at www.rpvisuals.com.
Get all the latest Press Releases:
About rp Visual Solutions

rp Visual Solutions is the leading manufacturer of creative visual structures. We are a collection of passionate and innovative designers and engineers specializing in the development and implementation of creative visual solutions for the best in gapless joints. We solve for the large, curved, tilted, and architecturally integrated with a special focus on engineered screen solutions that ensures projection technology has maximum impact. RPV is known for the best in display optimization, install, and maintainability. 
About the Certified Technology Specialist Credential

AVIXA's Certified Technology Specialist, Certified Technology Specialist "Design and Certified Technology Specialist" Installation are the only audiovisual certification programs accredited by the International Organization for Standardization's (ISO) United States representative, the American National Standards Institute (ANSI). Accepted by the U.S. Veterans Administration for reimbursement under the Montgomery G.I. Bill, AVIXA certification programs are designed to establish and maintain widespread credibility for the audiovisual industry and the professionals who perform the work. AVIXA's CTS, CTS-D, and CTS-I renew their credential every three years through continuing education. Each renewal candidate is required to attain 30 renewal units (RUs). To learn more about AVIXA and the Certified Technology Specialist (CTS) accreditations, visit AVIXA.org/certification.
About AVIXA

AVIXA is the Audiovisual and Integrated Experience Association, producer of InfoComm trade shows around the world, co-owner of Integrated Systems Europe, and the international trade association representing the audiovisual industry. Established in 1939, AVIXA has more than 5,400 members, including manufacturers, systems integrators, dealers and distributors, consultants, programmers, live events companies, technology managers, content producers, and multimedia professionals from more than 80 countries. AVIXA members create integrated AV experiences that deliver outcomes for end-users. AVIXA is a hub for professional collaboration, information, and community, and the leading resource for AV standards, certification, training, market intelligence, and thought leadership. Additional information is available at avixa.org.