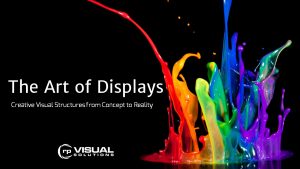 rp Visual Solutions, (RPV), is pleased to announce that the company has been named an official AVIXA Renewal Unit (RU) Provider. This will allow the more than 9,000 professionals holding AVIXA International's Certified Technology Specialist credential to earn renewal units towards their certification by completing certain RPV education programs.
To obtain approval, RU programs must feature experienced instructors with clear evidence of qualifications in the session topic. Each class must contain at least one relevant learning objective or industry-related purpose; relate to a specific exam topic area and exam level and conclude with an assessment tool to demonstrate participants have grasped the objectives. These criteria are vigorously reviewed by AVIXA University's Certification Renewal Unit Committee.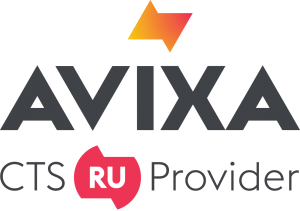 The following programs can be completed for RUs:
Art of Displays: Creative Visual Structures from Concept to Reality for .5 RUs
"RPV has shown a commitment to bettering the audiovisual industry through the delivery of quality training that supports accreditation," said David Labuskes, CTS, RCDD, Executive Director and CEO, AVIXA International. "By fostering professional development, RPV has demonstrated its leadership and strong support of the industry."
For additional information on programs and availability please contact Brandy Alvarado or visit us at www.rpvisuals.com.
Get all the latest Press Releases:
---
By submitting this form, you are consenting to receive marketing emails from: . You can revoke your consent to receive emails at any time by using the SafeUnsubscribe® link, found at the bottom of every email.
Emails are serviced by Constant Contact
About rp Visual Solutions
rp Visual Solutions is the leading manufacturer of creative visual structures. We are a collection of passionate and innovative designers and engineers specializing in the development and implementation of creative visual solutions for the best in gapless joints. We solve for the large, curved, tilted, and architecturally integrated with a special focus on engineered screen solutions that ensures projection technology has maximum impact. RPV is known for the best in display optimization, install, and maintainability.
About the Certified Technology Specialist Credential
AVIXA International's Certified Technology Specialist, Certified Technology Specialist "Design and Certified Technology Specialist" Installation are the only audiovisual certification programs accredited by the International Organization for Standardization's (ISO) United States representative, the American National Standards Institute (ANSI). Accepted by the U.S. Veterans Administration for reimbursement under the Montgomery G.I. Bill, AVIXA certification programs are designed to establish and maintain widespread credibility for the audiovisual industry and the professionals who perform the work. AVIXA's CTS, CTS-D, and CTS-I renew their credential every three years through continuing education. Each renewal candidate is required to attain 30 renewal units (RUs). To learn more about AVIXA International and the Certified Technology Specialist (CTS) accreditations, visit AVIXA.org/certification.