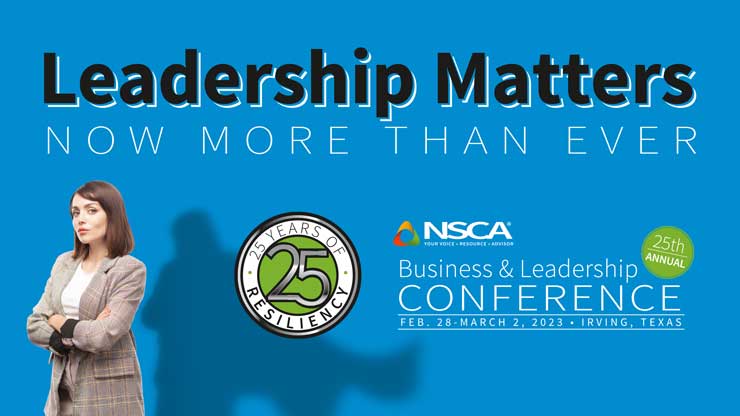 To help integrators strategize for future success, rp Visual Solutions is sponsoring the 25th anniversary of NSCA's Business & Leadership Conference
Anaheim, California Jan. 26, 2023 — rp Visual Solutions, RPV, developers of the award-winning Wallmate series of flat panel display mounts, and experts in design and delivery of custom video wall structures, is excited to announce its support of NSCA's 2023 Business & Leadership Conference (BLC), held on Feb. 28-March 2, 2023, at the Four Seasons Las Colinas in Irving, TX. RPV is proud to be one of the industry providers included in this soon-to-sell-out event.
NSCA's BLC is the industry's most notable platform for executive-level education and networking. The event brings hundreds of executives together annually to share stories, learn from other leaders, and hear about new ways to embrace disruption, be effective leaders, and motivate employees. This upcoming conference marks the 25th anniversary of BLC, occurring at a time when integration companies need support more than ever amid a changing—and challenging—environment.
We invite our integration partners to attend this event to discover effective leadership strategies that will improve the quality of their work, shift sales conversations, build winning teams, accelerate performance, and much more. BLC 2023 keynotes include:
Finding Focus in a World of Chaos by Dave Crenshaw
Don't Sell Yourself Short by Chuck Wilson and integration industry vets
Cultures of Innovation by Tatyana Mamut, PhD
Financial Leadership in 2023 & Beyond by Robert "Cujo" Teschner
Leading with Courage and Confidence by Dr. Ivan Joseph
The Secrets to Crushing Competition Regardless of Price by Ian Altman
Economic Outlook 2023 and Beyond by Dr. Chris Kuehl
"BLC wouldn't be possible without our manufacturer and technology provider members," says Chuck Wilson, NSCA CEO. "They are dedicated to helping integrators improve their businesses and find innovative ways to meet the needs of their own customers. If integrators want to be prepared for the future, and network with manufacturers that can help them get there, then this is the place to start."
"RPV has close ties the design consultant and integration community", said David Wood, Business Development Manager for rp Visual Solutions. "We support events that provide our clients with information that will help them and their businesses be successful."
Registration details can be found on the NSCA conference website: www.nsca.org/blc.
About rp Visual Solutions  
rp Visual Solutions is the leading manufacturer of engineered visual structures including the award-winning Wallmate line of flat panel and LED mounting systems. We are a collection of passionate and innovative designers and engineers specializing in the development and implementation of creative visual solutions for the best in gapless joints. We solve for large, curved, tilted, motion, and complex architecturally integrated displays.  
About NSCA 
The National Systems Contractors Association (NSCA) is the leading not-for-profit association representing the commercial integration industries. The National Systems Contractors Association is a powerful advocate for all who work in the integration industry, including systems contractors/integrators, product manufacturers, consultants, sales representatives, architects, specifying engineers and other allied professionals. NSCA is dedicated to serving its contractor members and all channel stakeholders through advocacy, education, member services, and networking designed to improve business performance.