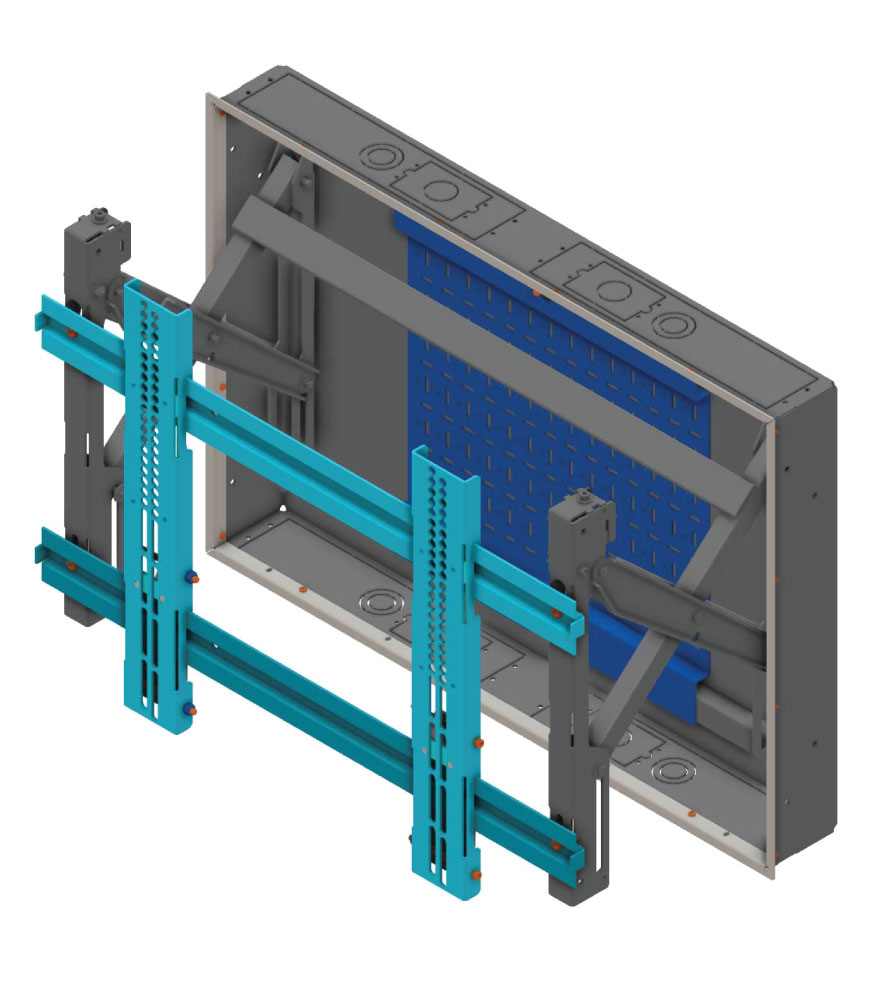 June 14, 2023, Anaheim, CA: rp Visual Solutions, rpv, a leader in custom visual structures, announced today an expansion of the popular Wallmate line of single panel mount solutions to include the Wallmate MINI. The Wallmate MINI is designed for panels as small as 43" and up to 125 lbs.  Other Wallmate solutions accommodate panels up to 105" and 400 pounds, as well as all-in-one LED display wall systems.
Like other Wallmate in-wall, back-box systems, the MINI enables orderly installation of the display and additional peripheral devices. rpv's highly adaptable Universal mounting plate, that easily accommodates a large number of non-VESA compliant displays., can be used with the new MINI system. To assist with achieving ADA compliance, the depth off the wall can be ask minimal as 0.6".
"Smaller panels are in high demand for team rooms and huddle rooms." said James Fife, Inventor of Wallmate and rpv's Consultant Extension. "The MINI offers a tremendous opportunity for integrators to realize the benefits of the Wallmate design in more applications. The same ease of installation and service access saves time and money."
Wallmate MINI maintains rpv's quality standards in form and function. Displays and peripheral electronics can be staged on Wallmate's removable peripheral plates, in assembly line style, before installation. Once the Wallmate in-wall back box is installed, the pre-staged peripheral plates and panels can be quickly secured in place.  This capability enables significantly faster installation. If service is required, quickly swapping in a replacement or a fully pre-loaded spare plate maximizes room up-time.
Built to the high standards that rpv is known for, using big heavy steel, the Wallmate MINI is structurally robust and provides exceptional stability over time.
# #
About rp Visual Solutions   
rp Visual Solutions, rpv, is the leading manufacturer of creative visual structures. We are a collection of passionate and innovative designers and engineers specializing in the development and implementation of creative visual solutions for the best in gapless joints. rpv solves for large, curved, tilted, and architecturally integrated displays with a special focus on engineered screen solutions that ensures any display technology delivers maximum impact. rpv is known for the best in display optimization, installation, and maintainability.