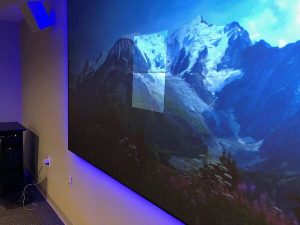 When it comes to ambient light rejecting screens, not all screens are created equal. Especially off-axis. Audience viewing across a standard +/- 45-degree angle really shows the difference.
At 45 degrees off-axis, dnp 08-85 supernova screens still have 70% of the image brightness! On the other hand, MOST of the competition screens drop off to as low as 16%.
Comparing systems,
dnp Supernova 08-85: on-axis contrast 76:1, 45 degree contrast 68:1
Competition screen: on-axis contrast 35:1, 45 degree contrast 8:1
So not only is the black level better, AND the contrast better, the uniformity for viewers across the room is also much better.
dnp: THE LOWEST ALR VALUE IN THE WORLD!
So when other screen companies play games with the R in ALR being Redirecting, get the performance of REJECTING the ambient light. True ALR technology.
#dnp Supernova screens make all the difference.